A Special Secret To Save Even More When You Dine Out
Restaurant weeks are looked at as a great time of year to indulge on fine dining without breaking the bank. There's a secret that you may want to know that can help you save not only on your meal, but also on getting you to the restaurant.
Read More
---
6th Annual Pittsburgh TasteBuds Holiday Wine Exchange
As per our annual tradition, where the Pittsburgh TasteBuds really got started, we are gathering our friends and followers for the 6th Annual Holiday Wine Exchange. This year, the venue is going to Sake Asian Cuisine and Sushi Bar in South Side Works.
Read More
---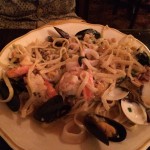 BYOB Scouting at San Lorenzo in Lawrenceville
TasteBudA and I dined with a couple of friends in Lawrenceville at a new restaurant, San Lorenzo Ristorante. Excited at the prospect of a new BYOB restaurant, I decided to go off-diet and understand what this restaurant is really made of.
Read More
---